Get Started
What is a HyperDoc?
HyperDocs are digital lesson plans that are designed by teachers and given to students. They provide access for students to all content and learning in one organized digital space. HyperDocs shift instruction by giving students the content to explore before direct instruction, and by asking students to apply their learning using the 4 C's: critical thinking, communication, collaboration, and creativity. We can't always do things the way we've always done them and we encourage you to consider, "What is it that I can do now that I couldn't do before?"
HyperDocs, a transformative, interactive Google Doc replacing the worksheet method of delivering instruction, is the ultimate change agent in the blended learning classroom. With strong educational philosophies built into each one, HyperDocs have the potential to shift the way you instruct with technology. They are created by teachers and given to students to engage, educate, and inspire learning. It's not about teaching technology, it's about using technology to TEACH.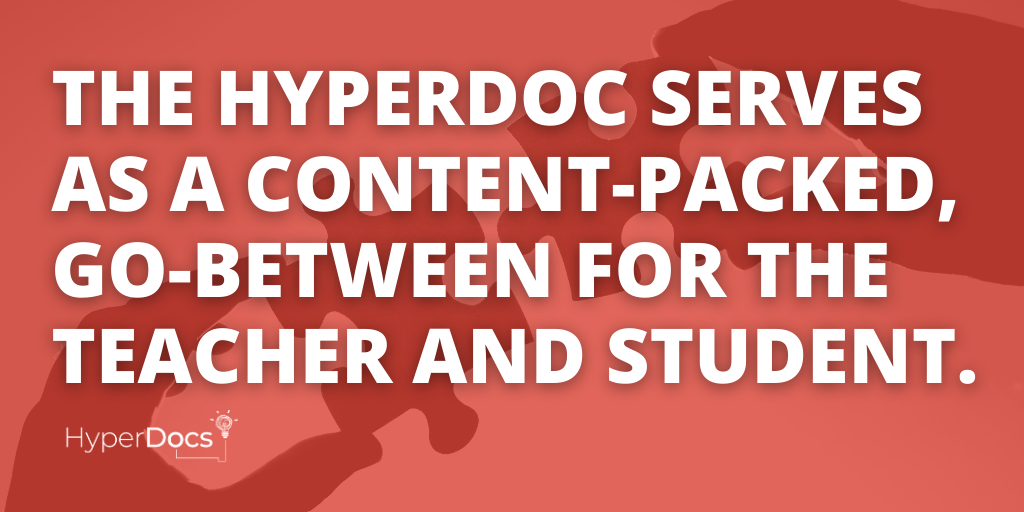 Things you can do with a HyperDoc
A true HyperDoc is much more than some links on a document.
Creators deliberately choose web tools to give students opportunities to Engage • Explore • Explain • Apply • Share • Reflect • Extend the learning.

Digital collaboration is choreographed to give every student a voice and a chance to be heard by their classmates.

Critical thinking and problem-solving skills can be developed through linked tasks.

Students have an opportunity to create authentic digital artifacts to show what they know and connect with a wider audience.
What do HyperDocs Look Like?
HyperDocs are digital lessons designed by teachers and given to students. What platform you choose to design them on is up to you (we can teach you how)! How you choose to get them to students is also up to you (we have a course for that)! The most popular platform to use is by far Google Docs and Google Slides but those should never be the limiting factors in your amazing designs.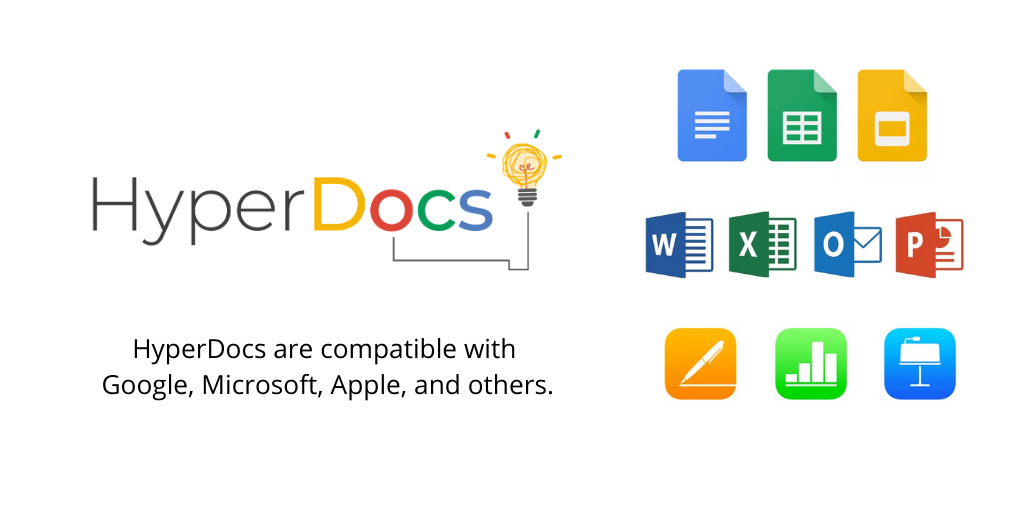 These icons lead to folders with sample lessons made by teachers just like you! Take a moment to explore them and get a sense of what they look and feel like. If you're looking for more, head
here
.
Want to see a lesson being taught with a HyperDoc? Check out this Workshop Model lesson about commas using HyperDocs.
How to start using HyperDocs
Find a HyperDoc just right for your classroom and try it out yourself! The best way to learn about how HyperDocs work is to use one. Use one of our many samples or take a look at our templates.
After you find one you'd like to use, File > Make a Copy and edit the HyperDoc to meet the needs of your students and your learning environment.
Here is a video about how to modify HyperDocs. Here is the HyperDoc that is being modified.
If you'd like to learn more about getting Started with HyperDocs. We suggest our, "Getting Started Course Pathway" which is 100% and a great way to learn more about what a HyperDoc is and how to get started mastering the design and delivery of them. We also have a Remote Teaching Course Pathway that is also totally free. Click the images below to check them out!