5 Steps to Create a HyperDoc Lesson
by Sarah Landis
Feeling overwhelmed with all the sudden shifts in education?
Regain control with HyperDocs: digital lesson design that you create for your own students.
---
Why digital lesson design?
When was the last time you sat down to think through all the steps of a lesson plan? After years of implementing the curriculum in a classroom, this likely becomes natural to you. However, remote teaching and learning call for a new way of designing instruction. Educators have been called to action -- change the way you teach! HyperDocs are digital lessons that can help you navigate this new territory, and do it in a meaningful way for all.
Our teaching manifesto reveals all the ways teachers are asked to reach learners. And now there have been new layers added to that list, such as: simultaneously teach in asynchronous and synchronous ways, use new web tools, assess students with non- "Google-able" questions, help students develop executive functioning skills on their own, promote social skills via screen, develop video conferencing norms, consider how to provide meaningful feedback remotely. The list goes on. We have been called to change the way we teach, overnight. The most effective way to lean into this sudden opportunity is to design HyperDocs. During a time where many educators are feeling like they lost control of their teaching lives, we believe that lesson design is something you are in control of!
In the image below, we highlight the 5 Reasons Why HyperDocs are Changing Education.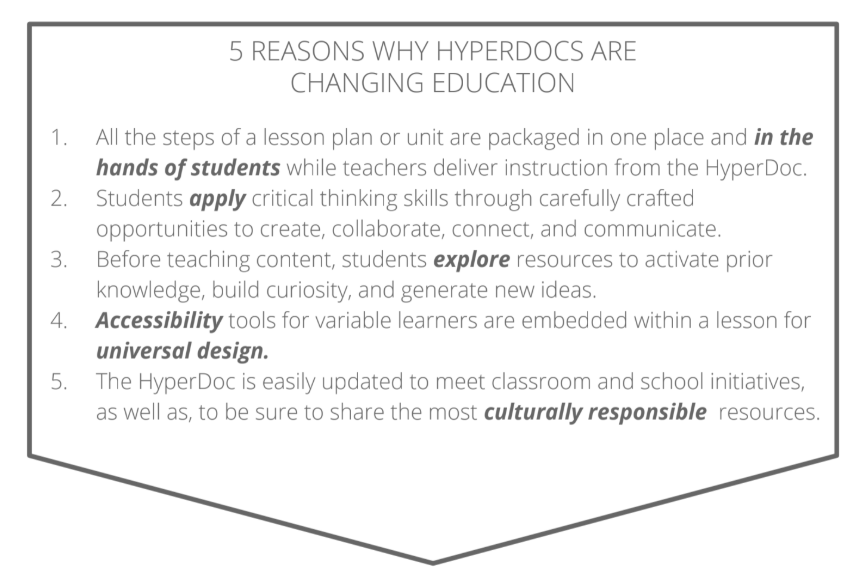 Our lesson design principles are grounded in the 4C's, SAMR model, Universal Design for Learning framework, ISTE standards, and research around various cycles of learning. We do not want teachers to simply assign a document with links. Instead, we invite the educator to create a digital learning experience for students. Now let's determine how to create a HyperDoc in just five (5) steps.
5 Step Lesson Planning Tool
Thinking through these five components will help you prepare for creating your own HyperDoc lesson. These are the five steps involved in designing a digital lesson. Once you complete this thinking, you are ready to start your lesson! The following tool will guide you through the five steps.
This fillable lesson planning tool will help you think through the first steps of lesson design online.
More of a pen/paper thinker? You can also print out this pdf version to write in your lesson ideas.
If you use Microsoft Word, you can download the first version as Word (.docx)
---
The Design Process in Action
Curious how the lesson planning process works? Once you have considered the 5 steps to create a HyperDoc, you are ready to begin designing. You have three choices on how to get started: remix one you have already seen, use a template, or start from scratch. If it helps, check out the three links below to see the transition from tool → planning/thinking → HyperDoc lesson!
For Example:
TOOL THINK/PLAN THE HYPERDOC LESSON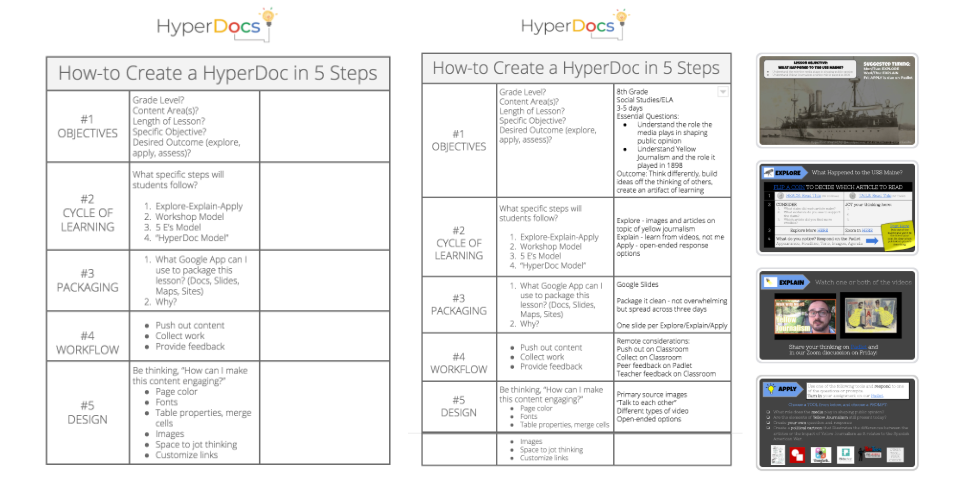 "Designing a HyperDoc is a series of decisions that you make with your learners in mind."
---
Ready to learn more?
Check out the USS Maine lesson by @scottpadway and the remix version for remote learning:
Lesson for traditional classroom setting
Lesson for an at-home/remote learning setting
Annotated version to show the modifications
Our Remote Teaching Course and Study Guide can help you further navigate the design process.
---
Comments (1)
Thank you for the tool and short video.

Thank you for the tool and short video.

Author: Sauni Dain

04-06-2020